Age/Grades
Boys Soccer is available for:
High School Varsity / JV (Fall, Summer Training)
Junior High (Summer Training only)
Costs
2021-22 Registration fees are:
High School Season Registration ($335)
Varsity Fee ($100)
High School Summer Training ($30)
Junior High Training ($80)
Coaches/Contacts
For questions about the program or to schedule games, please contact our Boys Soccer Director, Steve Ward.
Varsity Head Coach: Steve Ward
JV Head Coach: Trace Gaskell
Boys Soccer Intro
As an organization that exists to serve the homeschool community, we understand the need to be respectful of each family's time, and we strive to help one another and build each other up. The Lions promote a sense of teamwork, community, friendship, discipline, respect, and grace. It is a place where families bond, where young men mature, and where the beautiful game of soccer is enjoyed!

2020 Season Summary:
Varsity record: 19-8
6-2 vs. Missouri State High School Athletic Association (MSHSAA) teams.
MaxPreps Kansas State High School Ranking #18.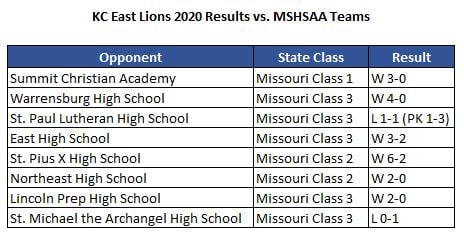 Visit us on:
2021 Season Details
Boys Soccer is a fall sport for high school students. However, we offer optional preseason training beginning in June. We also offer junior high students a summer training program.
High School Preseason Training – Our preseason training sessions for high school athletes runs 3 nights per week from June 14-July 22.

Varsity/JV – Our high school teams (Varsity and JV) will transition from summer workouts to official practices on July 26th. Games begin the week of August 16th. Both Varsity and JV will have approximately 10-12 games. Varsity will play in 3-4 tournaments. JV may play in 1-2 tournaments, depending on availability. These JV tournament entry fees will be split among participants (generally $25/tournament).

Junior High Summer Training Program – We offer a junior high training program on Monday and Thursday evenings, June 14 – August 12.

When registering, there is an option to split the total fee into three equal monthly payments. Additional fees for tournament play, travel, and/or uniform deposits may apply depending on the sport. Season Participation & Registration fees are combined into one price.
January 2022
| Monday | Tuesday | Wednesday | Thursday | Friday | Saturday | Sunday |
| --- | --- | --- | --- | --- | --- | --- |
| | | | | | | |
| | | | | | | |
| | | | | | | |
| | | | | | | |
| | | | | | | |
| | | | | | | |
February 2022
| Monday | Tuesday | Wednesday | Thursday | Friday | Saturday | Sunday |
| --- | --- | --- | --- | --- | --- | --- |
| | | | | | | |
| | | | | | | |
| | | | | | | |
| | | | | | | |
| | | | | | | |
March 2022
| Monday | Tuesday | Wednesday | Thursday | Friday | Saturday | Sunday |
| --- | --- | --- | --- | --- | --- | --- |
| | | | | | | |
| | | | | | | |
| | | | | | | |
| | | | | | | |
| | | | | | | |
April 2022
| Monday | Tuesday | Wednesday | Thursday | Friday | Saturday | Sunday |
| --- | --- | --- | --- | --- | --- | --- |
| | | | | | | |
| | | | | | | |
| | | | | | | |
| | | | | | | |
| | | | | | | |
May 2022
| Monday | Tuesday | Wednesday | Thursday | Friday | Saturday | Sunday |
| --- | --- | --- | --- | --- | --- | --- |
| | | | | | | |
| | | | | | | |
| | | | | | | |
| | | | | | | |
| | | | | | | |
| | | | | | | |
June 2022
| Monday | Tuesday | Wednesday | Thursday | Friday | Saturday | Sunday |
| --- | --- | --- | --- | --- | --- | --- |
| | | | | | | |
| | | | | | | |
| | | | | | | |
| | | | | | | |
| | | | | | | |
July 2022
Monday
Tuesday
Wednesday
Thursday
Friday
Saturday
Sunday

All Day

KC East Boys Soccer - Varsity High School Summer Showcase vs TBD

KC East Boys Soccer - Varsity High School Summer Showcase vs TBD

13700 Switzer Rd, Overland Park, KS 66221

Location: Scheel's Soccer Complex

All Day

KC East Boys Soccer - Varsity High School Summer Showcase vs TBD

KC East Boys Soccer - Varsity High School Summer Showcase vs TBD

13700 Switzer Rd, Overland Park, KS 66221

Location: Scheel's Soccer Complex

KC East Boys Soccer - Varsity High School Summer Showcase vs TBD

KC East Boys Soccer - Varsity High School Summer Showcase vs TBD

13700 Switzer Rd, Overland Park, KS 66221

Location: Scheel's Soccer Complex
August 2022
Monday
Tuesday
Wednesday
Thursday
Friday
Saturday
Sunday

6:30 pm

KC East Boys Soccer - Varsity - Alumni Game

KC East Boys Soccer - Varsity - Alumni Game

6:30 pm – 6:30 pm

1501 NE Legacy Park Dr, Lee's Summit, MO 64086

Location: Legacy Park Soccer Fields
September 2022
| Monday | Tuesday | Wednesday | Thursday | Friday | Saturday | Sunday |
| --- | --- | --- | --- | --- | --- | --- |
| | | | | | | |
| | | | | | | |
| | | | | | | |
| | | | | | | |
| | | | | | | |
October 2022
| Monday | Tuesday | Wednesday | Thursday | Friday | Saturday | Sunday |
| --- | --- | --- | --- | --- | --- | --- |
| | | | | | | |
| | | | | | | |
| | | | | | | |
| | | | | | | |
| | | | | | | |
| | | | | | | |
November 2022
| Monday | Tuesday | Wednesday | Thursday | Friday | Saturday | Sunday |
| --- | --- | --- | --- | --- | --- | --- |
| | | | | | | |
| | | | | | | |
| | | | | | | |
| | | | | | | |
| | | | | | | |
December 2022
| Monday | Tuesday | Wednesday | Thursday | Friday | Saturday | Sunday |
| --- | --- | --- | --- | --- | --- | --- |
| | | | | | | |
| | | | | | | |
| | | | | | | |
| | | | | | | |
| | | | | | | |